Welcome Message
Welcome to Friends to Elect James Evans! On this site you will find all the information you will need to learn about the candidate for Woodinville City Council!
"I am excited to run to be your next Woodinville City Council Member! I appreciate all of your support and would love to hear feedback from you!"

Photos
Biography
James grew up in Woodinville as a child, attending The Bear Creek elementary school and earning his Eagle Scout award in Boy Scout troop 573, meeting near Cottage Lake. It was his family and involvment in these local curricular activities that initially taught him the idea of "service above self". James' father and mother instilled in him the concept that "no man is an island" and teams of individuals working together are crucial to success, a value that James has carried with him into his adulthood. James is a loving son and a caring brother who has stayed close to his family his entire life.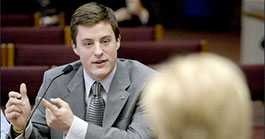 James has always had a mind for business. At the age of 14, he started a local photography and graphic design business that took the senior portraits of his classmates. Within Woodinville, James has been a member of Eastside Gymnastics since his teen years and has helped in its renovation. Later, James bought the gym and moved it to a newly rennovated location (still within Woodinville) so that it might continue its mission of "educating and inspiring" local children as it had once done for him.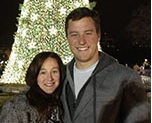 Graduating from Cedar Park High School, James would select Washington State University as his next proving ground. Serving as the Director of Legislative Affairs for the Associated Student Body of Washington State University (ASWSU), James would find himself the President of the statewide Washington Student Lobby, serving six public baccalaureate institutions focused on protecting student's access to higher education. James continued on to major in Economic Sciences and graduated from the University of Washington.
With over a decade of legislative experience under his belt, and as one of the senior associates of his government relations firm, he is honored to represent organizations like the statewide economic development association (WEDA) and Tacoma Public Utilities (TPU), supporting their interests in energy, environment and capital issues, as well as traveling around the world in support of international clients in Brazil, Thailand and other parts of the globe. Now, with the opportunity to serve on the Woodinville City Council in front of him, James is excited to get involved and give back to the community he loves.